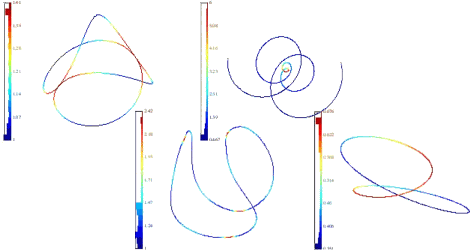 Curvature and torsion estimators based on parametric curve fitting
Thomas Lewiner, João Gomes, Hélio Lopes, Marcos Craizer
Abstract:
Many applications of geometry processing and computer vision rely on geometric properties of curves, particularly their curvature. Several methods have already been proposed to estimate the curvature of a planar curve, most of them for curves in digital spaces. This work proposes a new scheme for estimating curvature and torsion of planar and spatial curves, based on weighted least-squares fitting and local arc-length approximation. The method is simple enough to admit a convergence analysis that takes into account the effect of noise in the samples. The implementation of the method is compared to other curvature estimation methods showing a good performance. Applications to prediction in geometry compression are presented both as a practical application and as a validation of this new scheme.
Downloads:
PDF paper
(926 KB)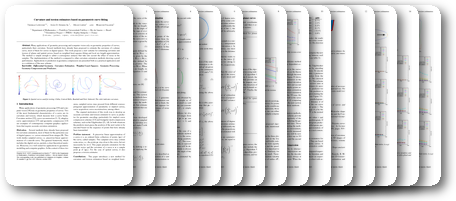 BibTeX:
author = {
Thomas Lewiner
and João Gomes and
Hélio Lopes
and
Marcos Craizer
},
title = {Curvature and torsion estimators based on parametric curve fitting},
year = {2005},
month = {october},
journal = {Computers & Graphics},
volume = {29},
number = {5},
pages = {641--655},
publisher = {Elsevier},
doi = {10.1016/j.cag.2005.08.004},
url = {\url{http://thomas.lewiner.org/pdfs/curvature_cg.pdf}}
}