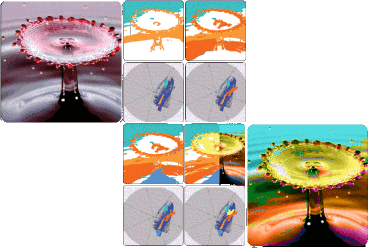 Exploratory visualization based on multidimensional transfer functions and star coordinates
Alex Bordignon, Rener Castro, Hélio Lopes, Thomas Lewiner, Geovan Tavares
Abstract:
Exploration and analysis of multivariate data play an important role in different domains. This work proposes a simple interface prototype that allows a human user to visually explore multivariate spatial objects, such as images, sequence of images or volume. It uses star coordinates as a widget to display the multivariate data on the computer 2D screen. The user then identifies a feature on this powerful coordinate system by mapping a selected feature region on that widget to a color and opacity. As a visual result, the feature is rendered on the objects space composing this map and the star coordinates projection. Some examples illustrate the potential of this interface.
Downloads:
PDF paper
(3.8 MB)
PPT presentation
(6.6 MB)
movie
(11.3 MB)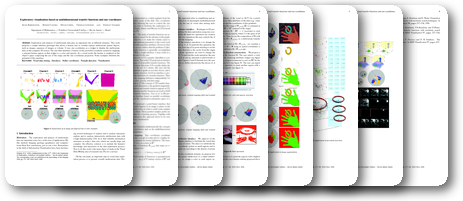 BibTeX:
author = {
Alex Bordignon
and Rener Castro and
Hélio Lopes
and
Thomas Lewiner
and
Geovan Tavares
},
title = {Exploratory visualization based on multidimensional transfer functions and star coordinates},
year = {2006},
month = {october},
booktitle = {Sibgrapi 2006 (XIX Brazilian Symposium on Computer Graphics and Image Processing)},
pages = {273--280},
publisher = {IEEE},
address = {Manaus, AM},
doi = {10.1109/SIBGRAPI.2006.17},
url = {\url{http://thomas.lewiner.org/pdfs/multi_transfer_sibgrapi.pdf}}
}